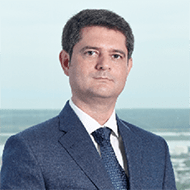 JAVIER RAMÍREZ GÓMEZ
jramirez@vjlegal.co
Lawyer Master of Laws from the Universidad del Norte, with specialities in Constitutional and Parliamentary Law from the Universidad Externado de Colombia – Autónoma de Madrid and in Home Public Services from the Universidad Externado de Colombia. Professor of the law program at the Universidad del Norte and of the specializations in Public Law and Residential Public Services. Extensive experience in constitutional and
contentious-administrative actions, consulting for public service companies and in matters related to public and private contracting. He also works Arbitrator in the Centro de Arbitraje de la Cámara de Comercio de Barranquilla.